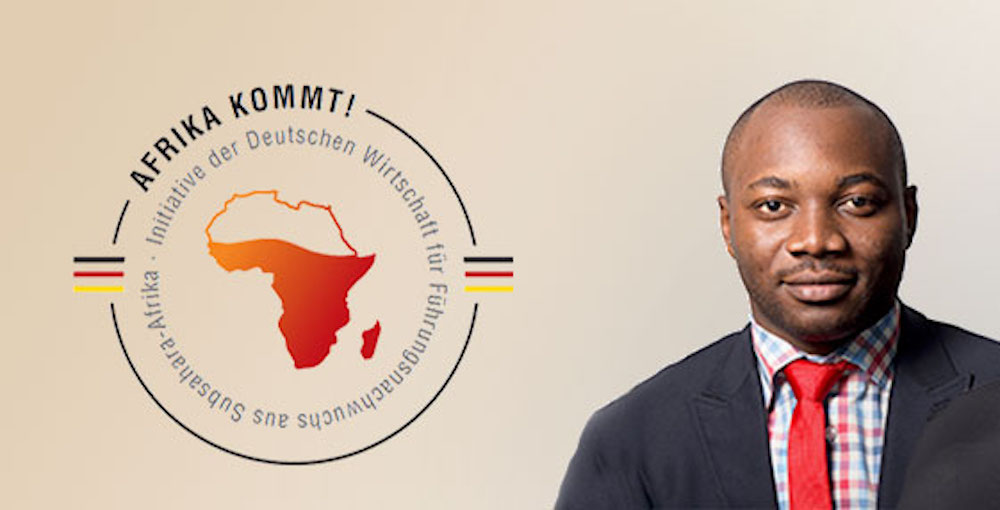 Afrika Kommt! is back.
The AFRIKA KOMMT! fellowship program aims at highly qualified, self-driven young professionals and junior executives from Sub-Saharan Africa with several years of hands-on work experience, strong leadership qualities and a very high level of commitment and dedication.
Application Deadline: 3rd February 2017
The initiative was set-up in 2008 by leading German companies who take in successful candidates and offer them training as executives. Since then, 76 African young professionals and junior executives have participated in Afrika kommt!.
READ:Afrika Kommt Alumni Making it Big in Kenya
The program fellows benefit through
gaining first-hand practical experience in a leading German enterprise

being exposed to leadership concepts and management techniques in practice

becoming acquainted with working processes and business culture in German enterprises

extending their international management competencies

initiating networks of cooperation partners between Sub-Saharan Africa and German companies
The partner companies benefit through
establishing networks of cooperation and trust in promising future markets in Sub-Saharan Africa

extending their experience with the working and business culture in Sub-Saharan Africa

improving their knowledge about cultures, markets, countries etc. in Sub-Saharan Africa
READ: Kenyan Afrika Kommt! Fellow Shares Her Experience in the Program
Key elements of AFRIKA KOMMT!
Financed by the German partner companies, the capacity development program AFRIKA KOMMT! is conducted in German and consists of the following key components:
One-month home-based intensive German language preparation course

One-year stay in Germany comprising of:

Three-months intensive German language course

Eight-months internship in a German partner company

Three one-week training modules on international management and leadership competencies

One-week study tour in Germany on relevant subjects, e.g. "Regional Economic Development"

Weekend seminars on cultural and social subjects organised by the Robert Bosch Stiftung in

Stuttgart and the ZEIT-Stiftung Ebelin und Gerd Bucerius in Hamburg 

Cultural weekend activities organised by GIZ

Six-months transfer phase after the stay in Germany via GIZ's online platform Global Campus 21

Refresher course in Africa, approx. 6-12 months after the stay in Germany, offering the former fellows to extend their networks with other alumni and to mutually benefit from their experiences.
READ: Kenyan Making Waves at MERCK Featured as Afrika Kommt Alumni
Candidates need to fulfil the following formal eligibility requirements:
University degree in a relevant subject (please see individual company profiles below)

Postgraduate degree (e.g. MBA) is an advantage

Two to five years of relevant work experience

Excellent English language skills

Basic knowledge of the German language is an advantage

Not older than 35 years and physically fit

Female candidates are welcome
APPLICATION
Recommendation: Please apply as soon as possible and not at the very end of the application period as the expected high number of applications might cause technical delays.
READ: AFRIKA KOMMT!!! Exchange Program for African Professionals
If you want to apply for the sixth AFRIKA KOMMT! intake from 2016-2018, please make sure you follow the four steps listed below:        
Step 1: Check the general candidate requirements – do you fit the criteria?

Step 2: Check the available placements and required profiles of the sixth intake of AFRIKA KOMMT! 2016-2018 – Please remember you are applying for the program in general, not for a specific placement

Step 3: Visit

the homepage

and fill in the application form: Application form

Step 4: Submit your application BEFORE 03.02.2017, 23.59h CET – applications submitted after this date cannot be considered
CONTACT
GIZ GmbH
Deutsche Gesellschaft für Internationale Zusammenarbeit GmbH
Landesbüro NRW
Regional Office North Rhine-Westphalia
Frau Lydia Jebauer-Nirschl
Wallstraße 30
40213 Düsseldorf, Germany
Tel.: +49 (0)211 – 8689 – 166
Fax: +49 (0)211 – 8689 – 151
E-mail: afrika-kommt(at)giz.de