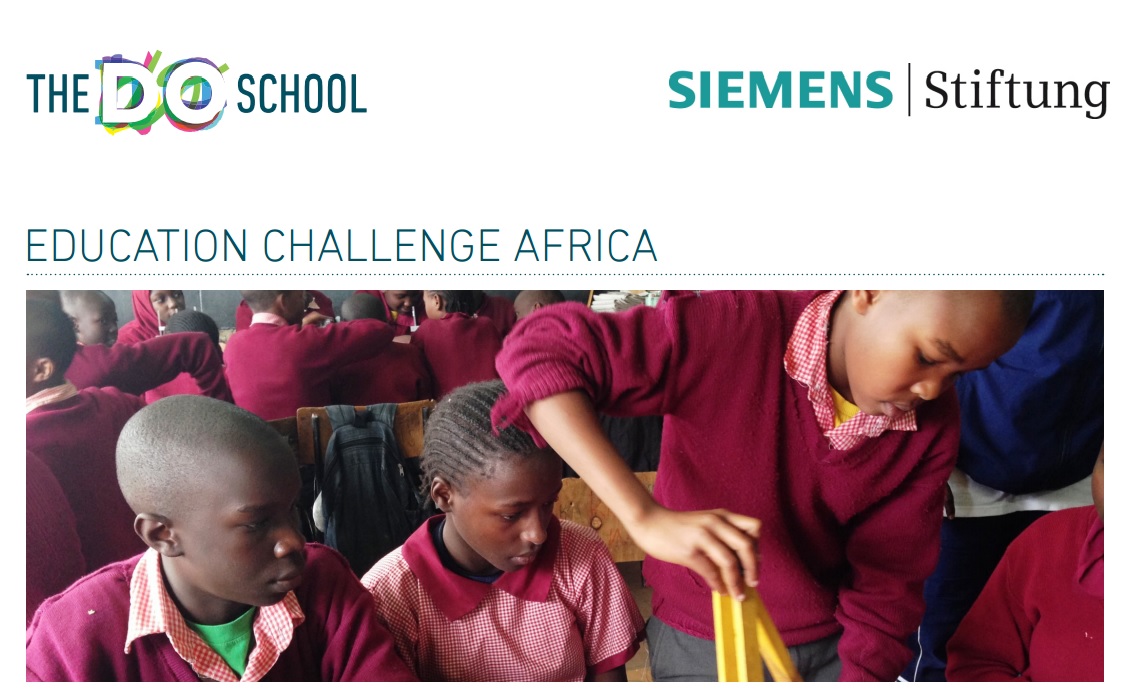 Want to join us in Berlin to gain innovation and entrepreneurial skills by working on a concrete challenge? Are you eager to help developing an existing education program from South Africa to Nigeria, Kenya and beyond? Are you excited to be part of an innovative learning community? Then this 3-week Innovation and Entrepreneurship course in Berlin is for you!
11/09/2015
Siemens Stiftung and the DO School challenge you to develop a concept for locally led organisations that can roll out an existing education program for children and young people from South Africa to Nigeria, Kenya and beyond.
LOCATION
The DO School campus in Berlin, Germany
DATES
November 16th to December 4th, 2015
TUITION FEE
Participation in the program is covered by Siemens Stiftung.
A limited number of travel and accommodation stipends are available upon application.
WHO SHOULD APPLY
People aged 25 to 35 with a strong connection to SubSaharan Africa who are active in education, community outreach, governmental organisations, activism or with a pedagogical background.
THE CHALLENGE
Experimento is an international educational program offered by the Siemens Stiftung that provides teachers and educators with a practical and curriculum-oriented selection of topics in the areas of energy, health, and the environment. Specific instructions, methods, and materials for experiments help to embed the program in teaching.
The Siemens Stiftung has successfully established Experimento in South Africa. Based on this success, the Challenge consists in developing a vision for local institutions that can be effective conduits for rolling out Experimento in other countries in a format that allows the program to scale efficiently and take into account local circumstances.
While working on this concrete challenge through the help of the DO School Method, you will learn crucial skills and exchange with renowned experts for education and the Siemens Stiftung.
WHAT YOU GET
You will get innovation and entrepreneurial skills with the opportunity to learn and put into practice the DO School Method, a globally tested approach to help you put your ideas into action. People are using the DO School Method to create their own startups or maximise their professional impact within their organisations. The DO School Method was developed by the internationally recognised DO School, in partnership with renowned entrepreneurs and activists.
APPLICATION PROCESS
Step 1
Create a user account. You will receive an email with a link. Click on this link to activate your account. If you do not receive this email within a few minutes, please check your spam folder.
Step 2
Complete all three required parts of the online DO School application form. You will be asked to fill in personal information, answer application questions, and agree to the conditions of application. To save your work and return to it at another time, click the "save" button. In addition, you can optionally complete the form for financial aid.
Step 3
Submit your application. Once the status of all three parts is complete, you can click the "Submit Your Application" button. Please note that you cannot make any changes to your application after your submission. No late submissions will be accepted. Successful submission will be confirmed by a screen saying: "Your application has been submitted".
After you apply
We will be in touch with you via email 4-5 weeks after the application deadline. If your application passes the first selection round, you will be invited for a Skype interview for the second round. All applicants will be notified, whether successful or not.
THE DO SCHOOL
The DO School is a global educational platform dedicated to innovation, entrepreneurship, and social impact. With the unique DO School Method and a wide network of experts, the DO School empowers DOers from all walks of life to turn their ideas into action. The DO School is based in Berlin and New York City.
SIEMENS STIFTUNG
Siemens Stiftung operates in the fields of basic services, education, and culture. As a hands-on foundation, it develops its own projects and implement them with a view to the long term. Together with its partners, Siemens Stiftung aims to help people improve their living conditions. By doing so, Siemens Stiftung tries to empower functioning communities in which people can have a good life. Siemens Stiftung is committed to international, impact-oriented, and transparent project work.
To apply: Apply Do School
For more info: The Do School Education Challenge