The next intake for the program Afrika Kommt, 2016-2018 is here. It I also time to relive the experiences of previous beneficiaries from Kenya. 
AFRIKA KOMMT, the very first joint-initiative for capacity building by German industry was initiated by 19 leading German companies in 2008. Unlike other initiatives and sponsorships which aim at students, Afrika Kommt exclusively targets young professionals and junior executives from Sub-Saharan Africa with several years of hands-on work experience, strong leadership qualities and a very high level of commitment and dedication.
A little over 100 young African professionals have benefited from the fellowship program since its inception, a fair number of whom have been Kenyan.
READ: Call For Applications for Afrika Kommt! 2017-2019
Juddy Akinyi Otieno, an IT Specialist was one of the first 20 beneficiaries of the project during its piloting in 2009. The then 29-year old Kenyan worked with Bosch in Gerlingen near Stuttgart and it was a great experience for her: "If someone had told me a year ago that I would be in Germany, I would have taken it for a joke", she told FOCUS Online. She had doubts whether she would endure a full year in Germany upon arrival, "it was just too cold here", she said. But soon she learned about the "onion principle" (dressing in layers during winter) thus managing to defy the cold weather. 'I'd heard that lots of Germans weren't particularly friendly and that they were perfectionists,' said Otieno, a 31-year-old IT quality analyst. 'But that's not true at all.'
At Bosch, the IT specialist was involved in human resources management and also doubled in other stations. Before she moved to Gerlingen she had, together with other beneficiaries of the program, done a three month's German course in Saarbrücken. Before that, she had never spoken a single German word!
READ:Kenyan Afrika Kommt! Fellow Shares Her Experience in the Program
After returning to Kenya in 2009 in the middle of the economic crisis, Juddy found work at a financial institution that primarily operates in Kenya and Zimbabwe. 'The competition was tough, but my boss was very impressed that I had gathered experience in Germany.'
In addition to Bosch, there are 18 other German companies including SAP, Bayer, Commerzbank and Daimler participating in the program. The program has been on-going for more than 8 years now with the aim of expanding the exchange between young African executives and the German economy.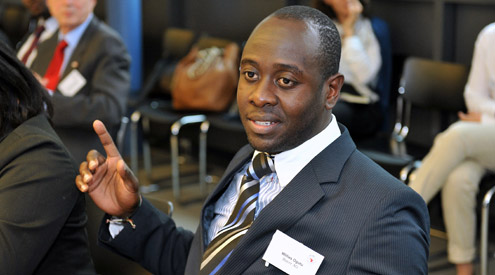 By the time Juddy was completing her time within the program, she already had big plans – to empower young women in Kenya – "even if I cannot change the whole country. I would be pleased if I would influence the life of an individual by my actions", she said. Her observation is that there are not enough women in IT in Kenya: "Women in IT are rare in Kenya. I was the only woman in my year at the University."
READ: Afrika Kommt Alumni Making it Big in Kenya
Similarly, Lillian Kegera Mong'osi, another beneficiary of the program in 2012 had high hopes of taking change with her back to Nairobi – "All projects are superbly documented here, and accurate data is always available," she told Der Tagesspiegel.
During her time in the program, the 36 year old civil engineer worked at Deutsche Bahn in the "International Market" division. At Deutsche Bahn, she was mostly in-charge of managing customer care and acquisition of orders projects for Africa and Europe. "In Germany everything is efficient and thorough", she said. She also liked the flat hierarchies – "If I had questions or suggestions, I could approach my boss at any time about it", she said. However, in Kenya, where she oversaw public works projects in the Transport and Construction Ministry, it is very formal.
READ: Kenyan Afrika Kommt Alumni: Making Waves at MERCK
Willis Omondi Ogutu, another beneficiary of this initiative flew back to Kenya with a contract in his pocket. For nine months Ogutu worked within Bayer's marketing of emerging markets department in Berlin. With an outstanding performance during his time in Berlin, Willis was awarded a contract to work for Bayer in Nairobi where he would oversee health projects of the Group e.g. the supply of the rural population with preventive measures, which Bayer is produces in Berlin.
Before he went to Germany, the business economist worked for a Kenyan nongovernmental organisation that initiated and supervised health projects in the country such as prevention of HIV or malaria. There, too, he had already been in contact with German pharmaceutical companies. "German brands like Bayer are very well known in my home country," says Ogutu.
When he started at Bayer in Berlin, he was amazed at how international the German company was. "There are people from all parts of the world in my department, and we speak more English than German," he observed. He was especially enthusiastic about the efficient structures and good organization within the company.
READ: AFRIKA KOMMT!!! Exchange Program for African Professionals
He however had some advice to German companies: "German companies should sometimes be more flexible in their cooperation with partners in Africa, he told Der Tagesspiegel. On returning home, he would mostly miss the many festivities in Germany. "I liked the carnival, the New Year's Eve parties and the Christmas markets."
Last but definitely not least is Peninah Mercy Wanjiku Migwi, a graduate of USIU where she studied International business relations. At the time of joining the program, she worked for Dunlop Industries Limited in Nairobi. Dunlop Industries produces PVC floor tiles. Her time in the program was spent at Voith AG in Heidenheim, a mechanical engineering corporation.
These are some common but unique inspiring experiences from previous beneficiaries of Afrika Kommt. Normally, the participants of the program are deployed in German companies for one year for further qualifications and experience in an exchange that should benefit both sides. They acquire basic knowledge of German in Africa followed by an intensive language course in Germany. After their stay in Germany they join an alumni network which plays a very important role in both private and professional terms.
Well, the next application deadline is on 3rd February 2017. Are you interested? You have a week to go. Get more info from Call for Applications Afrika Kommt and best of luck.