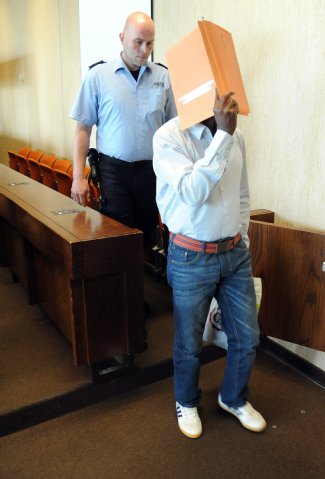 Last year November, an unbelievable incident took place in Cologne.
A Kenyan woman, Mwajuma B., was stabbed 50 times by her Tanzanian husband, Ramadhani K., in the presence of her seven children. (Read: Kenyan Woman Stabbed to Death in Köln by Tanzanian (Ex)Boyfriend).
The court process is currently on going at the  Landesgericht in Köln with the witnesses giving their account of what transpired that night.
First to testify was the defendant. According to news reports, Ramadhani after almost beheading Mwajuma in the presence of her children and even having some of her blood splash all over the youngest child, he remained calm and even went to smoke a cigarette as he waited for the police to arrive. After the police arrived, he was very cooperative and even took time to wear a coat to match his shirt before he was arrested.
When asked why he remained so cool after killing Mwajuma, had nothing good to say about Mwajuma. Ramadhani told the court that he was relieved that she was finally dead. From his account, Mwajuma was money hungry and this had led to her incurring huge debts which was the cause of most of their fights. He told the court that Mwajuma assaulted him several times, accusing her of beating him severally with a broom handle. He shared with the court of an incident when she pinched his testicles so hard, that they swelled. Mwajuma apparently, beat him and forced him to do housework.
He confessed to have walked out of their relationship several times, but he always came back. "I loved my wife and hoped that it would get better", he told the court. However he was unable to explain why he decided to attack her as he did on that fateful night.
The children now aged 9 months/2/3/11/12/16/18 were taken in by foster families and homes sponsored by the Kölner Opferhilhe. The oldest three, were taken in by their father and have been living with him in Köln-Mülheim for the past 2 months. "They are doing well, but they hardly speak on what happened that night," Mwajuma's ex-husband told reporters when asked about the children he took in. He also confessed of having been assaulted by Mwajuma during his relationship with her.
PS: The names used for the victim and the suspect as well as their relationship differ depending on the source. On Mkenya we refer to them as Mwajuma B. and Ramadhani K. the identities given by friends close to the couple. However, they have also been identified in court and in newspaper reports as Moujomba/Mujumba B. and Rama/Rajabu K.. When the news broke, they were reported to be exes. During the court process they have been referred to as a married couple.