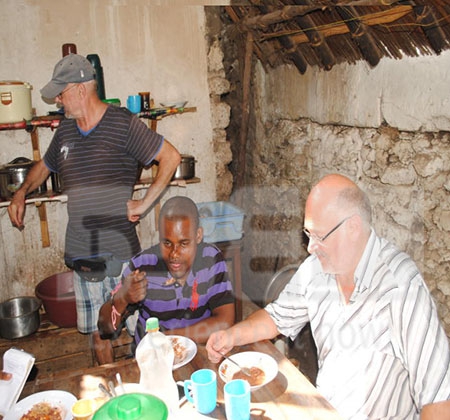 A German chef has retired to the Kenyan coast and instead of enjoying the extended holiday, he chose to invest in a business.
Wolfgang Fley, a 71 year old former chef from Germany, moved to Kenya and together with his 57 year old Kenyan wife decided to start a business. January last year, Wolfgang took the plunge and decided to be an entrepreneur in Ukunda in Kwale.
The chef who mainly speaks German and a bit of English, decided to be adventurous and instead of the typical tourist oriented restaurant you'd expect, he started a "Mama Ntilie" kiosk.
His single room thatched with coconut palm fronds, with a table, with two benches and stools can easily be mistaken for a door. He serves his clients with only Kenyan meals from sturungi (black tea) to githeri (mixture of maize and beans). His target being local business people in the adjacent Ibiza market in Ukunda. This is evident from the prices on his menu with the meals ranging from €0.10 to €0.40 per plate.
Although his prices are reasonable and the meals are decent, Wolfgang, being the German he is, is focusing on delivering the appropriate quality for that price (preis/leistungsverhältnis) while his clients would prefer if he served more food instead. A fact, Masha Katana, a client found at the restaurant confirmed, "The food is good and cheap though the portions are a bit small. Most of us prefer quantity to quality," says Masha.
However, the "My Favourite Place" restaurant, is partly lost in translation. The menu is full of spelling mistakes, with black tea for instance spelled as "black tea" and githeri spelled as "giteri".
With his limited English, he employed Maureen Samuel, a waitress to help out with clients who spoke neither English nor German. "He does most of the work like washing utensils, cooking and even serving. I also do the same, but mostly for those clients who are comfortable communicating in Kiswahili," she explains.
Asked why he chose to set up such a restaurant, "There are no tourists flocking the Coast currently and Kenyans will definitely buy local".
"Kenyan meals are easy to cook," he adds when asked about his choice of menu. "I cook and sell githeri, cabbages, sima, chapati and other dishes and will soon start making pilau," Wolfgang says.