A Swiss TV-Channel, SRF will be airing a new show on farm-living in Switzerland.
The show named: «SRF bi de Lüt – Unser Dorf» will look to tell the stories of the residents of a small village, Schwellbrunn in Appenzell.
Tucked behind the hills  in the hinterland of the canton overlooking the Bodensee, Schwellbrunn is a highly agricultural village. Clearly, making the cattle show (Viehschau), the most important day in the village.
The four part series which is set to start on Friday, the 6th of March, will follow several families from the village, among them a Kenyan, Ida Moriasy-Steinmann, married to a baker and her husband, Richi Steinmann, the baker.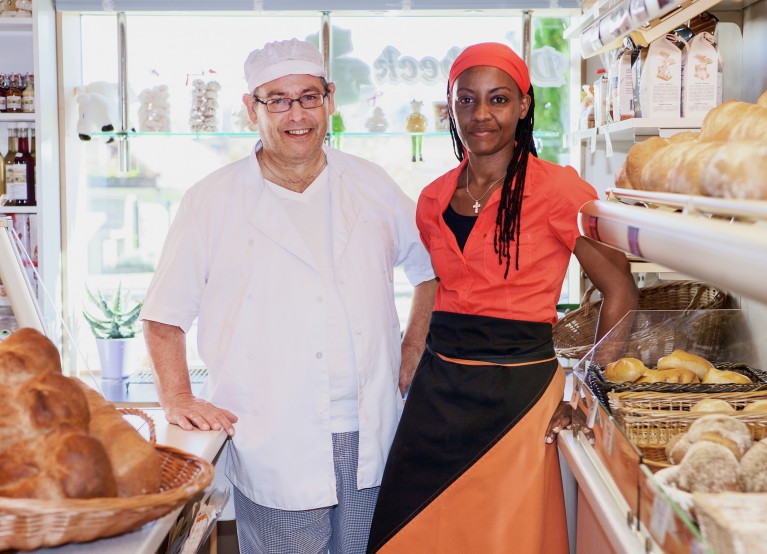 Born in Nairobi, Ida met her husband Richi in Mombasa. Richi who grew up in Canada to Swiss parents, was trained as a baker in Switzerland before leaving to work abroad. That landed him in Mombasa where he eventually met Ida.
"I never thought I'd be married to a baker, running a bakery in a village", Ida says with a smile.
When Ida moved to join her husband in Switzerland, they first lived in Bernese Oberland, the  higher part of the canton of Bern. After two years in Bernese Oberland, Richi saw an advert looking for a baker in Schwellbrunn, the couple packed their bags and moved on to the village.
Richi took over the bakery, being the trained baker and Ida, having studied business management in Kenya, took over the service part. It's not rare to find clients at the shop making orders in a mixture of English, Ausserrhod dialect and high German. "I was taken in very well here," Ida says, "We now have a loyal customer base."
Asked what was the biggest difference she had noticed between Kenya and Switzerland, Ida like many Africans pointed to the family structure. In Kenya, people try to keep in touch with relatives from the extended family, from uncles to aunts and cousins.
Looking back however, she pointed out another difference, "Kenya has been modernised in a short time and is losing a part of its culture". A stark difference to Schwellenbrunn, where the women dress up in traditional attire during the various festivals held in the village.
The show will run from 6th-27th March, every Friday at 8:05pm (20:05Uhr) on SRF 1.
It will also follow:
Edi Gantenbein, the farmer, whose favourite day of the year is the Viehschau
Trudi and Hanjok Meier, a couple that has been together for the past 50 years and knows exactly what drives the villagers
Peter Sturzenegger, the butcher who also rares oxen, and
Matthias Krucker aka«Kuk», the artist who's a bit different