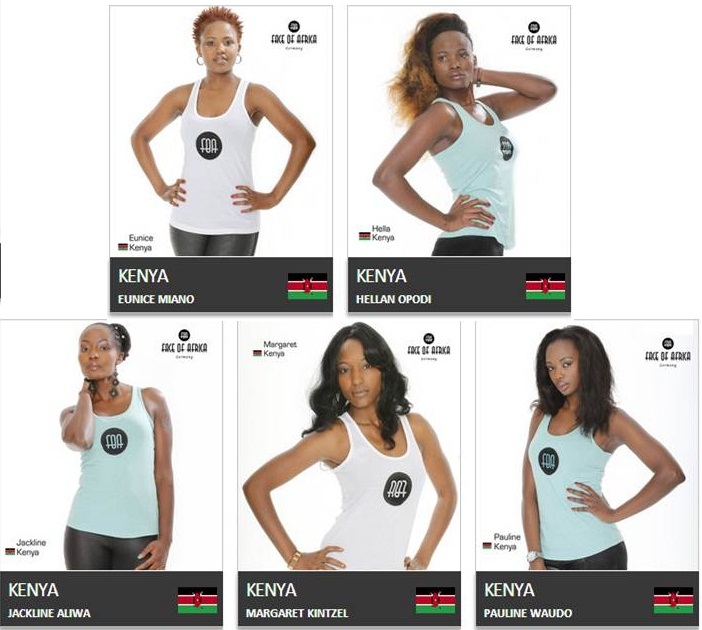 Late last year I discovered this competition, Face of Africa Germany (FOAG), and there was only one Kenyan competing. So I wrote the article, Looking for More Kenyans for the "Face of Africa Germany", and man did we get more Kenyans or what? Eventually there were over 30 beautiful Kenyan ladies in the competition. (We were definitely well represented).
After several stages and eliminations, the FOAG organisers now have a list of 22 finalists that include five Kenyans. The competition is stiff and our girls need your votes to carry the title home. Considering they are 5 and as Kenyans we're used to taking all top five positions in marathons, why not turn this into a marathon?
At the time of writing this article, Eunice Miano is leading the competition with 213 votes, while the second contestant has 136 votes. Two other Kenyans are in the top 10, that is Jackline at position 6 with 74 votes and Pauline at the 9th position with 67 votes. Margret and Hellen are at 13 and 14 respectively. Please take a few seconds to vote for the girls. It takes less than 30secs. Simply click on the link below for your favourite contestant, on the FOAG page with their profile, click on VOTE. That's it.
Please support our girls and let Kenyans be the first Face of Africa in Germany. Learn a bit more about the girls below:
Eunice Miano: (213) Click here to vote. 
24 year old from Mannheim currently in college studying nursing.
You can do all things through Christ Jesus who strengthens you
Hellen Opodi (14) Click here to vote.
26 year old from Köln part time model.
I have gone through many failures but I keep trying and trying, I believe in my hard work and I strive for success
Jackline Aliwa (74) Click here to vote.
25 year old from Güstrow; a mommy, student and employee.
You don't have to have it all, you just have to be proud of what you have and believe that it's the best and the world will believe in you
Margaret Kintzel (18) Click here to vote.
21 year old from Saarbrücken; studying Sales and Marketing
Beauty of whatever Kind, in its supreme development, invariably excites the sensitive soul to tears
Pauline Waudo (67) Click here to vote.
25 year old from Munich, sales personel and soon to be student in hotel management
Successful people don't have fewer problems, they have determined that nothing will stop them from going forward.