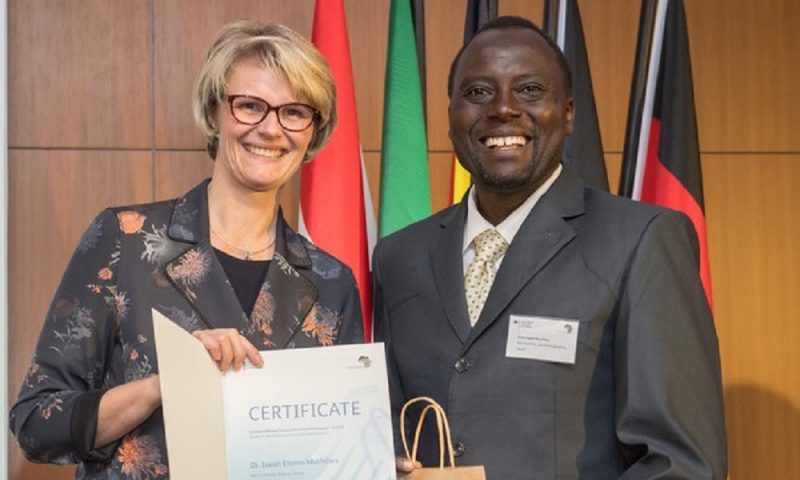 The Federal Ministry of Education and Research (BMBF) has defined cooperation with developing and emerging countries as a strategic area of action in its "International Cooperation Action Plan". The BMBF Africa Strategy provides a coherent framework for cooperation with partner countries in Africa – a framework within which a large number of initiatives are implemented to strengthen science and innovation systems in African partner countries. The German-African Innovation Incentive Award is part of these activities.
The Award:
encourages African countries' to translate research results into innovative solutions which will benefit the population in Africa.
promotes research activities that are application-oriented and sustainable and address the needs of society.
enables German researchers to collaborate with African partners.
raises the profile of the BMBF's extensive range of cooperation initiatives with African partners.
adds a structural element to individual funding
supports the implementation of a follow-up project which has an explicit orientation to applications and is intended to strengthen local or regional innovative capacity in an African partner country. Where possible, a funded project should not only deliver research results but also create the basis for establishing a lasting innovation structure (e.g. a start-up, an innovation incubator, a small enterprise oriented to research) or provide a realistic perspective for planning and establishing such a structure.
reflects the principles of the BMBF Africa Strategy: the promotion of independent initiatives in Africa, cooperation on the basis of partnership, and the creation of added value on both sides.
Funding
The Innovation Award will be presented to researchers in African countries and their German partners for proven outstanding research with the potential for application in combination with a utilization or commercialization plan. The plan should already provide perspectives for the lasting consolidation of cooperation between the partners and if possible for medium and long-term development of structures at the location in Africa.
Funding will be provided for collaborative projects which involve international cooperation and preferably deal with one or more of the following priority areas in line with the funding purpose described:
Environmental sciences
Health research
Bioeconomy
Societal development and social sciences (in particular socially responsible business practices, social innovations, sustainability concepts)
Resource management (in particular exploitation of locally available resources, resource efficiency and sustainability)
Information and communication technologies
The project plan is expected to include joint work phases in the African partner country. Itshould, as a rule, also include at least one joint work phase by the partners in Germany.
Recipients
Applications may be submitted by universities, non-university research institutions and other institutions contributing to research as well as commercial companies. Applicants are required to have a plant or branch (company) or another entity to act as funding recipient(universities, non-university research institutions and other institutions contributing to research) in Germany at the time of payment of the grant
Nomination and application procedure for the Award
There are two ways for candidates to become involved in the selection procedure:
a) Nomination
A representative of a German university/research institution or a company proposes a researcher at an African institution for the Award. In making the nomination, the German institution declares its readiness to collaborate with the African partners in a joint project. A project plan is submitted which has been developed and signed by both sides.
b) Application
African candidates submit their own applications for the Award and include a German cooperation partner which is eligible for funding under 3 above in the subsequent joint project. A project plan is submitted which has been developed and signed by both sides.
Application/Nomination Procedure
Applications and nominations should be carried out on the easy-Online Portal: (https://foerderportal.bund.de/easyonline).
Submission and selection of project outlines (including accompanying documents)In the first phase, the following must be submitted to the project management agency by 15 January 2019:
An informal cover letter with the nomination or application for the Award
A short research report on previous research with relevance to the Award
A project outline for the planned follow-up project.
The cover letter, research report and project outline must be submitted in English inelectronic and/or written form using the PT-Outline online tool (https://secure.ptdlr.de/ptoutline/app/af018gaiiaz4).
The BMBF has currently entrusted the following project management agency withimplementing the funding measure:
DLR Project Management Agency (DLR-PT)
European and International Cooperation
Heinrich-Konen-Strasse 1
53227 Bonn, Germany
Internet: http://www.internationales-buero.de
Fachliche Ansprechpartnerin (Technical Contact):
Birgit Wirsing
Telefon: +49 2 28/38 21-20 66
Telefax: +49 2 28/38 21-14 11
E-Mail: birgit.wirsing@dlr.de
Administrativer Ansprechpartner (Administrative Contact):
Martin Fischer
Telefon: +49 2 28/38 21-18 13
Telefax: +49 2 28/38 21-14 11
E-Mail: m.fischer@dlr.de
For more info:
In English: here
In German: hier