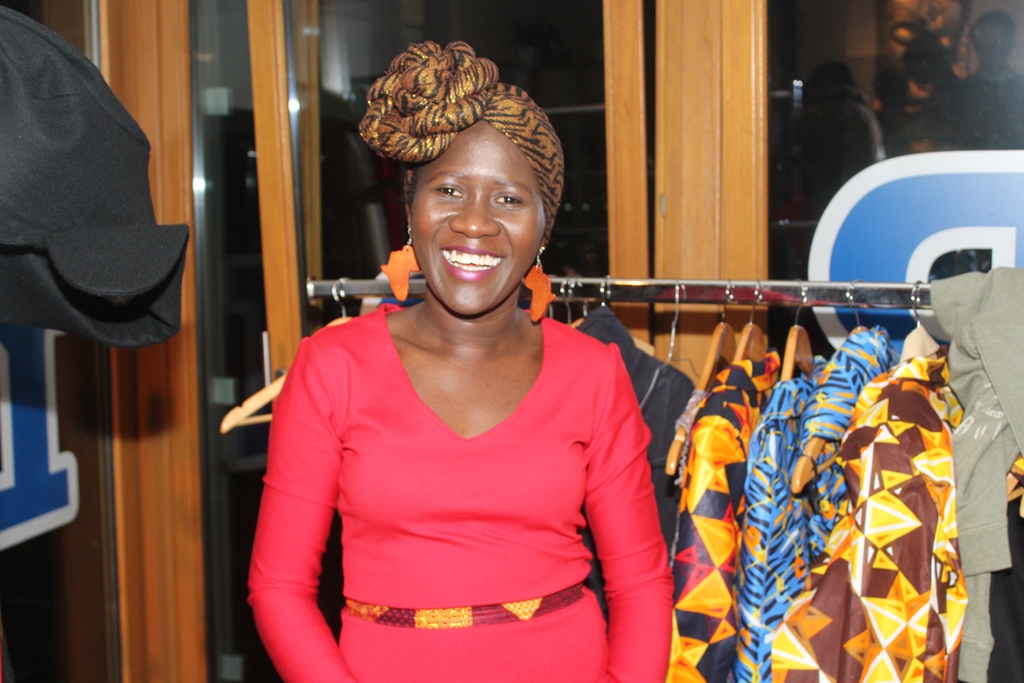 She is vivacious and exhibits passion for the talent that has seen the birth of Oriwo Designs. You can tell she loves what she does and that she is determined to break the glass ceiling that separates her from conquering the international fashion industry.
Florence Oriwo, is an embodiment of positive energy. A mother of two: a seven-year daughter and a son who just turned two years, she speaks of her family with a twinkle in her eye. It tells a lot about her dedication and strength, as she juggles between being an entrepreneur, a mother and a wife.
Florence left Kenya in 2008, after graduating from Maseno University with a degree in Business Administration and Accounting. At the time, she sought to find something different, explore a certain yearning to be her own person and make an impact in the lives of those around her.
While working as an Au pair, Florence would meet her husband and soon the two entrepreneurs would establish their family in the heart of Hamburg. Florence says she started working from home, mostly designing customized handmade creations and selling to clients who ordered.
 Love for Fashion
It is her love for fashion and a firm hand with a needle and thread that got her going, but she had been doing this as long as she can remember being a young girl living in Kisumu, where she attended both her primary and secondary schools.
A sewing machine, a present she received on her birthday in 2009, would unleash an inborn creativity that has seen her clothes adorn runways from the African urban inspired fashion – the 2015 docklandFASHIONparty to the Miss Kenya Germany pageant.
With the help of her accountant husband, Florence got her company registered last year, a feat she attributes to her academic training. She narrates that after completing an Ausbildung in Buchhaltung, she worked as an accountant and uses a lot of her financial expertise to price her products and make tax returns – Steuererklärung.
Her fashion designs are transformed from ideas into creative works of art in her atelier in her basement office in their family home. After dropping her kids to school, she spends at least six hours working, before picking up the kids from school, attending to household chores and family needs, then returning to work for a few hours in the night.
"My work as a designer involves choosing the fabric, visualising a design, stitching and marketing the finished product", she explains.
After making a few custom outfits in 2009, Florence created her first Fall/Winter Collection in 2015. Her second collection, Spring/Summer Collection 2016, was showcased earlier this year and she's currently working on her next Fall/Winter Collection set for this Autumn.
Florence says her endeavour is to find a personal identity as a designer, even though the German market is yet to understand the Kenyan concept. She has decided to use more neutral colours and less print, as she tries to find a balance and meet the needs of her growing clientele. To achieve a balance, Florence likes to move away from purely traditional African designs and focus instead on contemporary designs. She is still taken with the African print, and thinks it will define a large portion of her future designs.
Florence is also apt with social media to find a fashion pace, and what people are interested in. This aspect compliments her creative niche that has produced competent fashion, that strides across a German-Kenyan exotic feel.
She gets her fabrics from a Netherlands Company specializing in African print, Florence says it is important to know the origin of the material, something her clientele is particular about.
Apart from selling her products on the German market, she has orders from Italy, France, Slovakia and even Kenya.
Challenges
Her success is not without hurdles. Florence highlights some challenges as: high cost of sourcing for material; insufficient funds largely relying on her personal savings; limited employees with an experience in African design; the apathy towards African prints, where some clients think they represent an outdated style and difficulties in marketing the products.
She would wish for new designers to get more support from both the Kenyan Community in Germany and the IHK. Kenyans living in Germany can also support by buying her products and mentioning the products within their networks.
She says there is need for mentorship initiatives, where experienced designers exchange ideas with upcoming ones.
Her goal is to get her brands to be internationally recognized. Her advice to people looking to start entrepreneurial endeavours in Germany, is to have a focused idea that can be registered in the Handelsregister at the Industrie-und Handelskammer, IHK.
Asked which single moment sticks in her mind and inspires her to keep designing, Florence describes her first Herbst Fashion Show, last year in Hamburg. She says, "I spent one month of relentless work, and up to a few minutes before the show kicked off, I was still adjusting outfits on models, nothing seemed to be working".
However, after her collection of 10 outfits went on stage, she emerged from the backstage to a roar of applause, something that gave her a tinge of extreme happiness, an accomplishment.