The Cabinet Secretary in the Ministry of Foreign Affairs and International Trade, Amb. Amina Mohamed, was in Munich last week for a security conference.
Amb. Mohamed was accompanied to the conference by the Kenyan Ambassador to Germany (who is yet to be accredited), Joseph Magutt.
The Munich Security Conference (MSC, German: Münchner Sicherheitskonferenz) is an annual event aimed at bringing together the international community and promoting peaceful conflict resolution and international cooperation and dialogue in dealing with today's and future security challenges. The event was graced by Angela Merkel, Graca Machel, Kofi Annan, John F. Kerry, Dr. Frank-Walter Steinmeier, John McCain,  Petro Poroshenko, among many other world leaders.
The cabinet secretary who was in Germany from the 6th to the 8th also took time to meet with the Kenyan community in Munich as well as with other dignitaries that took part in the conference.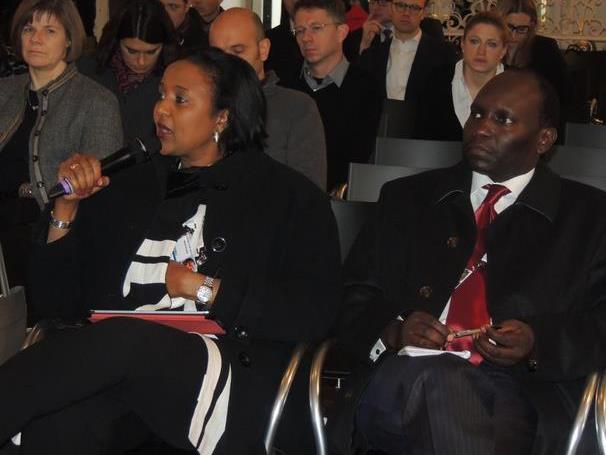 She met with the Minister of Foreign Affairs from Belarus, Vladimir Makei, to discuss possible  investment and trade opportunities between Kenya and Belarus as well as the need to form a joint business council for both countries. She also held talks with David Rodrigues, commander of U.S. Africa Command (USAFRICOM) on security capacity building in the region.
During her meeting with the Kenyans living in Munich, Amb. Amina Mohammed reiterated the President's and the Deputy President's passion for the diaspora. In her speech she mentioned plans of the Kenyan government to hold bilateral talks with Germany on dual citizenship. Furthermore, the government is working towards putting measures in place to allow the diaspora to invest their money without being exploited and also establishing an inter-agency taskforce to enable the diaspora to vote in 2017. She encouraged the diaspora to watch over one another, be partiotic, represent Kenya in Germany well, shun tribalism and engage with the government (Ministry of Foreign Affairs and International Trade) through the Diaspora Web portal. Finally, she requested the diaspora to read the diaspora policy. (Read: The New Kenyan Diaspora Policy and What it Means to you).
Amb. Joseph Magutt, who was also at the event began by thanking the Kenyans in Munich for taking the time to show up on such short notice and the Cabinet Secretary for taking time from her tight schedule to meet with the community. He went ahead to introduce himself as this was his first meeting with Kenyans since his deployment to Germany. He informed the Kenyans that the Embassy under his watch is willing to facilitate the diaspora to achieve their maximum potential within its service charter. He encouraged the Kenyans to feel free to reach out to him, as his door will always be open to the Kenyans.