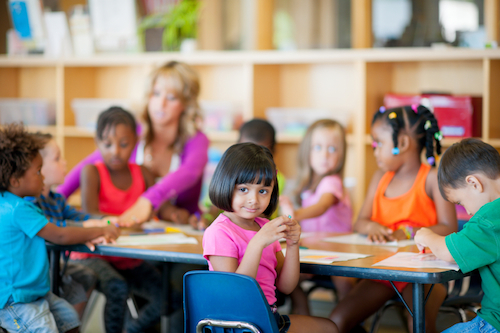 Some cities have many International Schools to choose from, other cities have one. If you have a choice between several schools, here are ten questions to consider:
1) Is the school accredited?
Choose a school that has been accredited. The Council of International Schools(CIS) or New England Association of Schools & Colleges (NEASC) are two of the most well-known accreditation organizations. An accredited school will have curriculum that is articulated and matched to specific standards. The accreditation process ensures that a school has a positive learning environment, a plan for its future and that the school has high safety standards. Accreditation also allows students to transfer credits between schools. If the school is accredited by an American organization, this allows schools to offer diplomas that are valid for American university entry.
2) Is the school a member of reputable educational organizations?
In Europe, a good International school will be affiliated with the European Council of International Schools (ECIS). There are also councils of international schools within each country or region. In order to be a part of these councils, the school must comply with certain standards. For example, if a school in Germany is not a member of the Association of German International Schools (AGIS), you might want to ask why.
3) What is the turnover of teachers and administrators?
International Schools are, by design, places where the student population is transient. Teachers also choose an international setting so they can see the world, staying a few years here and a few years there. But if the school has a low turnover of teachers, you know the school treats employees well. Teachers might sacrifice their Wanderlust when the school provides excellent pay and benefits, quality resources for the classroom, and plentiful professional development.  A happy teacher means happy students. Be wary of schools which have a high turnover in administration. If administrators have been with a school for a while, it is because they are happy.  They are invested in the school, its vision, and its programmes. If the school is hiring a new director and principals every two years, then the school is always in flux, coping with the new visions brought in with each new leader.
4) Does the school's website make you want to visit it?
A school website should be up to date. It should have a full calendar of events showing a variety of things: parent meetings, sporting events, activities, etc. The site should have student resources as well as parent resources available. Don't be worried about areas that are password protected.  This allows the school to create safe spaces to communicate only with its clientele. The website should express that the school values good communication with all its stakeholders. Are there pictures of students shown of various ethnicities? Are the students shown participating in a variety of activities? Does the calendar show the kinds of events that you and your child would like to be involved in? Can you easily access the information you are looking for?
5) What is the culture of the school?
When you get the chance to visit the school, ask your tour guide to describe the school's culture. They should be able to give you a description of the overall values of the school. Keep your eyes and ears open as you walk through the halls during passing times or breaks. Is it a highly academic school? Does the school have long practiced traditions? Does the school bring in the local culture as well as value the home cultures of its clientele? Do the students seem happy?  Are they congregating in areas for conversation and study? Do you see teachers walking alongside students or sitting and having conversations with students in meeting areas?
6) Does the school value languages?
Most International Schools are set up with English as the language of instruction. Students are also required to learn the language of the community. Even though most subjects are taught in English, you should hear other languages being spoken in the hallway. If only the local language of the community is being spoken in the hallways, then the school may not be internationally focused. A good international school should also provide native language instruction for students living away from their home country. Students need the opportunity to have access to language classes that will allow them to sustain their native tongue. Some schools offer these classes within the school day; others will offer them as after-school or weekend programs.
7) Do students have access to technology?
In this day and age, students and teachers should have access to 21st Century tools in the classroom. A good international school will value technology. You should see teachers using interactive whiteboards and projection systems in the classroom.  You should see students using laptops and tablets in the classroom. Technology should not be confined to a lab. Do students bring their own devices? What kind of access do students have to wifi throughout the school?  Are limitations being placed on students when using devices at school? Does the school's use of online tools allow for easy access to homework, information, and grades when not at school? Does the school's strategic plan include visionary direction for technology training and use for the future?
8) Does the school have a library and is it equipped with a teacher librarian?
A school library is more than just a place to store books. And a librarian's job is not just to buy and check out books.  In today's world, librarians need to be educators. They need to be working in classrooms to help students with research skills. They need to help students and teachers find ways to curate information and resources. They should be there to guide students through the plethora of digital and print resources available to them. When you walk into the library do you see students there? Are they working? Are they reading? Are there places for students to meet and collaborate?  If you go are in the library at lunchtime or break time, is it abuzz with activity or is it silent and empty?
9) Does the school provide programs beyond the general curriculum that will enrich the life of your child?
Schools should provide activities for students that go beyond academics. The arts are a vital part of education and enrichment for children. A good international school will provide opportunities for students to participate in band, orchestra, or choir. A good international school will allow students to express themselves through art, drama, dance, or Design and Technology. Larger schools are also affiliated with organizations that sponsor festivals and competitions for schools in the region. This allows students to compete against or join with students from other schools in a variety of ways. If sports are important to you, inquire about the athletic programs provided by the school. Most international schools have sports programs that compete with schools in their region.
10) What is the reputation of the school?
Do some research on the schools in your new city. There are a few websites that provide parents and teachers a place to review International Schools.
11) How much does it cost for a child to attend the school?
Some charge a subscription fee and some are free.
You can read more from Kathleen on her blog Lehrer Werkstatt.