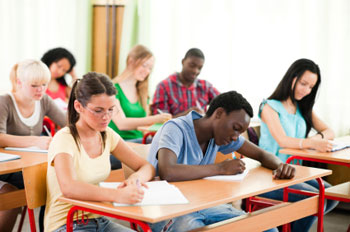 Working as an English teacher in the non-anglophone world has always been a "favourite" among Kenyans. It is possible to come to Germany and work as an English teacher, but you will need to be good enough to teach.
Although by virtue of our education system being in English, Kenyans are technically considered native English speakers, truth be told some of us don't speak very good English (then add German to it and the English is practically dead).
Please note you might have to work double as hard as a "real" native to get an English teaching job, but don't give up. Languages can be learnt and even perfected. If you require extra training for it, don't shy away from it. Nobody was born knowing, not even the natives, we can all learn.
Below are tips for those who would like to take it up as a career, but for the students, this is also a great opportunity to make some extra cash while at Uni. You can post ads at a nearby school to offer after school tuition in English, or work part time in a language institute or work for a "Nachhilfe" organisation to offer English classes.
Why You should
Opportunities
Germany offers a myriad of English teaching opportunities, from working in a major language school like Berlitz or the Wall Street Institute to teaching children part-time in Kindergartens.
Large Expat Community and International Companies
If you want to get into professional English training or business English training, come to Germany. The country has so many big companies like Siemens, Mercedes and BMW and they all take English training very seriously.
Aside from major companies, Germany is home to many international companies with staff in need of training. Many of their departments are willing to pay serious money for English training.
Pay is good
A business English trainer in Berlin can expect to earn between €15 and €40 for teaching a 45 minute class.
Those who do land a full-time gig as an in house trainer can expect to earn a whole lot more, perhaps between €1,500 and €4,500 per month, with the latter figure representing those who are extremely qualified
How to do it
Find your Niche
It's important to find your own niche in that large market of English teaching in Germany and to try to find something that suits your own personality and skills.
Be Certified
Get training in the field before trying to find jobs e.g. by being CELTA or TESL certified.
Have Other Qualifications
If you've worked in finance or marketing, for example, that increases your employability and the chances of being taken on directly by a company as an in-house English trainer.
Find the right Location
Finding well-paying jobs can be a challenge. In Berlin, there are hundreds of potential teachers competing for the same jobs instead look to other big cities like Frankfurt or Munich, or smaller towns. Research a small town, and if you know there's industry around there, that's brilliant because you might be one of the only trained language teachers in the area.
Culled from source.