As part of the Nairobi meets Berlin project, also known as the Spoken Wor:l:ds project, 16 artists from Nairobi and Berlin will be performing in Berlin this week.
This is the sequel to the event that was held in Nairobi in November last year. The project aims to celebrate art and creativity from both cities.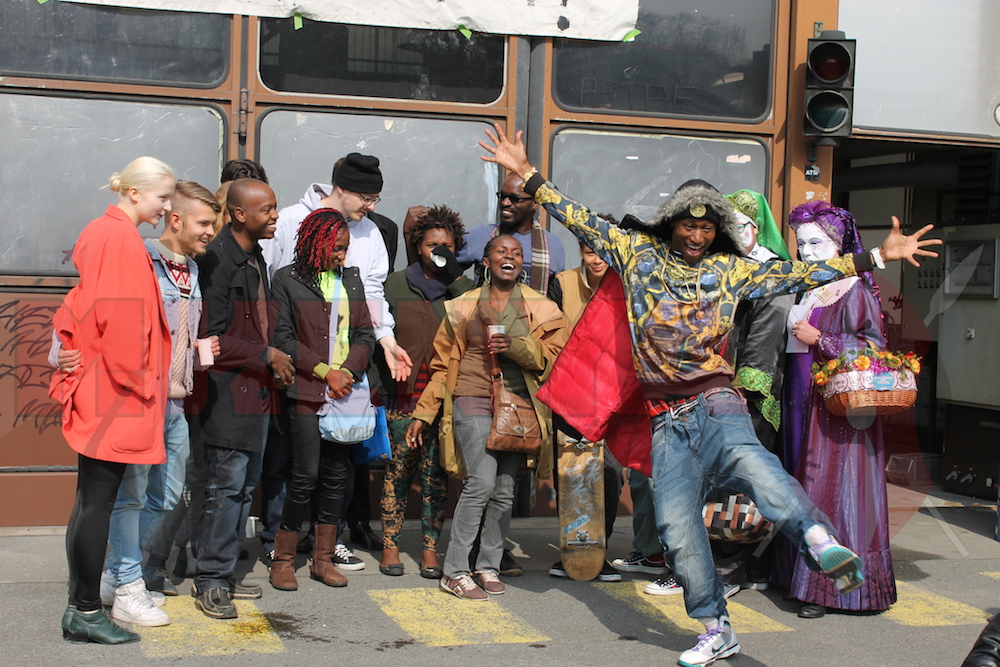 On Sunday they had their very first performance in Wedding in Berlin. The event that was named, "Andere Schaffe Afrika!" (Other Sheep Africa!), had the different artists discuss their views on religion.
Octopizzo (real name Henry Ohanga) spoke of the many religions in Kibera. He was very honest with how he sees religion especially in Kenya today. Like how churches are classified by class, most prosperity gospel churches being for the poor and middle class while the rich stick to the traditional mainstream churches. He also spoke of how most of us hide our evils behind the church, for example if a pastor rapes someone, they tend to say it was the devil that made them do it shortly before repenting their sins and the congragation singing praises to God for deliverying the man BUT if a young man who doesn't go to church, the crime seems to be magnified and handled differently.
 Poetic Bee and Sitawa Namwalie also added to the discussions with their poems. Poetic Bee had a song and a poem titles the Reincarnation while Sitawa performed her poem, Embalmed Souls. You can watch them below:
More performances are scheduled later on this week, see below for the plan:
Wed 9.4. 19:00 Uhr
Festival-Auftakt
Performance, Discussions and CD-Premiere featuring Checkmate Mido, L-Ness, Ogutu Muraya, Namatsi Lukoye, Sitawa Namwalie, Wanjiku Mwaura, Octopizzo, Poeticbee (Nairobi) und Josefine Berkholz, Diamondog, Erko, Christian Filips, Birgit Kreipe, LMNZ, Joe Madog und MC Josh (Berlin) Moderation Priya Basil
Venue: Heinrich Böll Stiftung, Schumannstr. 8, 10117 Berlin
Entry free
Thur 10.4 20:00 Uhr
Das gesprochene Gedicht
Performance and Discussion with Josefine Berkholz, Checkmate Mido, Diamondog, Christian Filips, Billy Kahora, Birgit Kreipe, L-Ness, Namatsi Lukoye, Ogutu Muraya, Sitawa Namwalie
Moderation Antije Krog
Venue: Literaturwerkstatt Berlin, Knaackstr. 97, 10435 Berlin
Entry free
Fr 11.4. 19:00 Uhr
Kultur als Brücke. Grenzüberschreitungen Afrika–Europa
Filmpremiere, Performances and Discussion with Olad Aden, Josefine Berkholz, Erko, L-Ness, MC Kah, Octopizzo, Christa Randzio-Plath, Wolfgang Schneider. Moderation Shelly Kupferberg
Venue: Werkstatt der Kulturen, Wissmannstraße 32, 12049 Berlin-Neukölln
Eine Kooperationsveranstaltung der Friedrich-Ebert-Stiftung, der Literaturwerkstatt Berlin und Gangway e.V.
Entry free
Registration at: Forum.CY@fes.de
Sat 12.4. 20:00
Benefizkonzert »Dandora!«
Conzert featuring Checkmate Mido, L-Ness, Ogutu Muraya, Namatsi Lukoye, Sitawa Namwalie, Wanjiku Mwaura, Octopizzo, Poeticbee (Nairobi) sowie Josefine Berkholz, Diamondog, Erko, Christian Filips, Birgit Kreipe, LMNZ, Joe Madog und MC Josh ( Berlin) Host Pyranja
Venue: Lido Berlin, Cuvrystraße 7, 10997 Berlin
Entry fee: €5