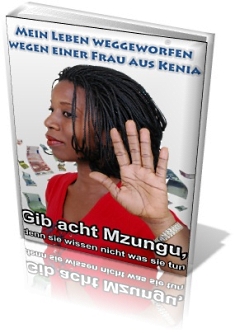 According to this guy, 98% of interracial relationships in Germany are headed for divorce and will hardly ever work.
Although the official title is, "Mein Leben weggeworfen wegen einer Frau aus Kenia", when the author sends out emails to his mailing list he uses the title "Mein Leben weggeworfen wegen einer Hure aus Kenia" (Threw my life away because of a Kenyan woman/halot). His book aims to discuss and clear up the following issues:
Sending money monthly via Western Union in the hope of abstinence
Why she has more than two cell phones. Today I know, she has three.
How fast she meets like-minded individuals in Europe.
Why someone can't plan a future with these people.
Why bringing up children is a mystery.
Why the spouse comes after everyone else including the family
How the German officials believe the lies and continue to give financial assistance
Why TLC (tender, love and care) and respect from their spouse, friends and children is a foreign phenomenon. Why they only think of themselves.
Mistakes we as Europeans should avoid in an interracial relationship
There are so many wrong things about the basis of this book. I think the problem here is the mindset the man had when he started a relationship with the lady and not necessarily the habits of the lady. I know there are good and bad Kenyan girls but from the list above, I think the problem was with him all along.
The list shows that this guy thought he had bought himself an admirer who would come to Europe and spend all her time adoring him and trying to fulfil his every command, only for him to realise he'd married someone with a brain that functions. I think he should have gone for shopping longer to know what he was "buying" from the market.
1. You can't buy love nor can you buy loyalty. Just because you send someone money doesn't mean a thing if they haven't pledged anything to you. This is a rule all over the world. Women all around the world have men who finance their lavish lifestyles while at the same time they have another boy who's their real heart throb. It's not a Kenyan phenomenon, it's universal.
2. Oya, cell phone rates na expensive abi. Yes. Most of us have families we're supporting back home so every cent we save can go into something else more important. We need to have a Lyca line to call family at lower rates, get an O2 line and e-plus for all the flat rates. Hey, we're economists by nature.
3. Unlike people from the tropics who're naturally a bit cold. People from where the sun shines, tend to be warmer, friendly and easier to form friends with. You meet a fellow Kenyan and you get along like a bush on fire even if you'll never meet again. It's not necessarily like-minded individuals but people with the same sun burning in them.
4. Hehehe, even Obama gave a backhanded comment on this when he mentioned the same in his book, he said Auma (his sister) shocked him because she was unAfrican as she tended to plan for the future. Don't blame us, blame where we're from. The sun shines through-out the year in most parts of Africa. We've never worried about missing food (droughts and famine are modern problems). Unlike Europeans who had to plant, harvest and preserve foods in the summer to ensure they were sorted in the winter, Africans always had food somewhere all year round.
5. Bringing up children is a science for Africans. Very different from the European upbringing. On this one, I'd suggest we agree to disagree. I already have a very strong opinion on how kids in Europe are brought up compared to how we do it in Africa, but because I doubt you'll agree to it and I know I won't agree your style either. We just decide to survive.
6. In Africa the rule is you marry a family and not an individual. Most Kenyan families are very close and not only the nuclear but the extended family as well. We believe no human is an island and we all need one another, especially the family. You might point out that some don't keep up with these families when they are back home only to become "tight" when they move to Germany. Well, blame it on the culture shock and the weather. It makes you miss even relatives you never used to speak to.
7. Do you really want to go there????? As in really? I'll give you homework, try applying for a work permit as a foreign graduate in Germany and compare that to applying for social welfare as a foreigner. Let's see which one you get faster and with less stress then we can discuss this further.
8. I hope this point is only to point out that your wife is selfish and not that Kenyan women don't know anything about love.
9. Please do tell. I hope you include assuming Kenyan women to be for sale and looking for a slave instead of a companion.
What do you guys think? Have you read his excerpts?
You can check out the rest of his madness here.