Children in Dadaab, one of the largest refugee camp in the world located in Northern Kenya, came out to send solidarity messages to Syrian refugees in Jordan.
The idea that was started by CARE Deutschland-Luxemburg e.V. had children at the high school in Dadaab write heart-felt messages that they addressed to Syrian children currently living in Jordan as refugees.
So my fellow brothers and sisters, we are with you. Don't worry. – Alfatah Kerow Aden
God willing, you will get peace and prosperity. We love our brothers and sisters in Jordan – Alrahman Aden Bulle
Peace will come to you. Insha Allah. – Alwahab Mohmed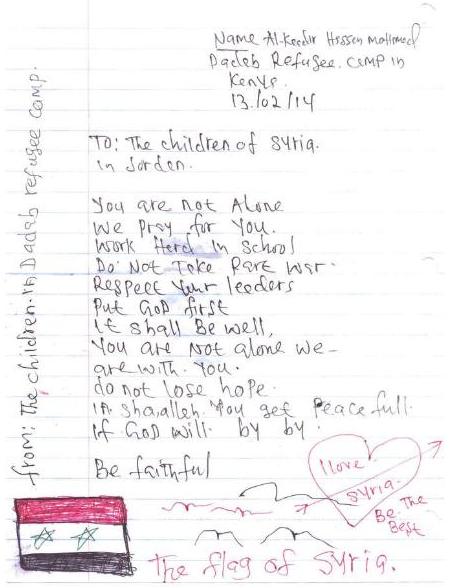 The letters together with the pictures of those who wrote them were delivered by the CARE Deutschland-Luxemburg e.V. officials to the Syrian children in Jordan.
All pictures courtesy of CARE Deutschland-Luxemburg e.V.
See more pictures on Facebook.