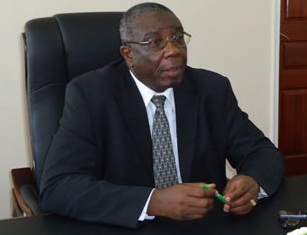 The family of Mary Spuck must have given a sigh of relief when Hon. Moses Akaranga, Governor of Vihiga County came to their rescue.
Mary Spuck is the Kenyan lady whose family had been informed of her passing but with little detail on where her remains were. (Read: Family Searching for details on dead relative). The family eventually got the information from Kenyans who knew the lady here in Germany in co-operation with the Kenyan Embassy in Berlin. The family had agreed to let Mary be laid to rest here in Germany instead of take the remains back home as this would have been a costly venture. Plans were set, with some Kenyans even offering to host Mary's mother when she comes to Germany and others organising for a fund raising drive, which is set to be held this Saturday in Frankfurt.
That was until, Mr. Fanuel Muhandale Kea, got wind of the story. (Remember him? The Vihiga County Ambassador in Berlin). Mr. Kea who is currently in Kenya, read the story on Mkenya and forwarded to the Governor to intervene.
(Oya, I'm very honoured to have honourable readers 😉 Just need to get more Wezi wa Miwa Waheshimiwas reading Mkenya, maybe even Uhuru and Merkel as well… hehehe. Getting ahead of myself aren't I? Anyhu, back to the story )
With Mr. Kea's contacts here in Germany, the Govenor, Hon. Akaranga was able to transfer the money and pay for Mary's return back home. Mary's mother won't be coming to Germany and will instead wait for Mary's arrival in Kenya as they prepare to give her an appropriate fare well.
The Kenyans in Frankfurt will be holding a fund raising event this Saturday in Frankfurt.
Mary's remains continue to lie at the Universitätsklinikum Gießen. She leaves behind a daughter and a grandchild.