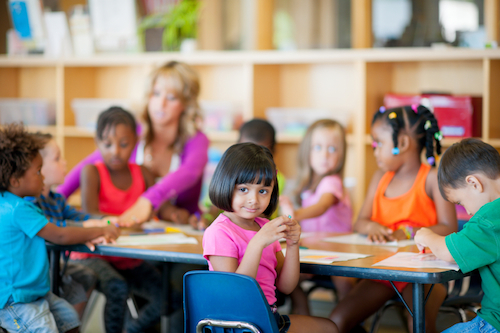 Six years ago, a business graduate Benjamin Tajedini, who comes from Iran opened his first bilingual chain of Infanterix kindergartens and daycare centres in Munich. He had prevoiusly lived France and Switzerland. He travels to countries like Finnland, China, and Romania in order to recruit qualified nursery teachers who are currently lacking in Germany. Tajedini's target group are people who want to maintain a part of their own culture even as they settle down into this new community.
Infanterix kindergartens are deliberately located near major companies like Siemens and the Bundesbank with which he has cooperation agreements. They support the institutions financially, and in turn their employees are guaranteed to get places for their children. These employees then pay the same amount that would be payable in the state run kindergarten i.e a maximum of €421 for a kindergarten and €202 for a daycare place.
There is a high demand for bilingual kindergartens in Bayern and parents are willing pay up to €800 for their children to learn English, French or Chinese. Tajedini who is also chairman of the umbrella organization of Bavarian childcare centres says these services could be cheaper if the government would allow him into the so called carrier operating model. A model in which a city's local government builds the daycare centers and institutions and then lets daycare providers manage them. In return these managers have to comply with the city's set standards for childcare quality and fees charged so as ensure the basic supply of childcare places.
However, the city's local government considers bilingual kindergartens and daycare centers special facilities since they go beyond the provision of basic daycare services. For this reason they not a priority because parents do not have the freedom of choice when the bilingual education is enshrined in the pedagogical concept which is contrary to the council's resolution. Despite lack of support from local government, Infanterix has managed to received subsidies for construction costs and the newest daycare centre was opened in September 2013 in Aubing.