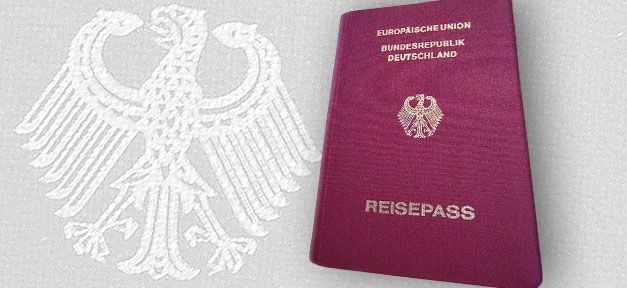 Formerly, they only looked at the years spent working, but now it's official they'll include the years you spent studying when you apply for an Einbürgerung (gaining German citizenship) but this doesn't include Bayern, Sachsen and Baden Württemberg. Here is the report from Migazin ( a magazine that writes a lot about migration issues in Germany.)
Wer seit acht Jahren einen rechtmäßigen gewöhnlichen Aufenthalt in Deutschland hat, kann sich vorbehaltlich anderer Voraussetzungen einbürgern lassen. Studien- und Ausbildungszeiten werden in nahezu allen Bundesländern entsprechend einer Empfehlung des Bundesinnenministeriums angerechnet, nur in Bayern, Sachsen und Baden-Württemberg nicht.

Damit macht Integrationsministerin Bilkay Öney (SPD) Schluss. Ab sofort sollen Einbürgerungsbehörden Studien- und Ausbildungszeiten in Deutschland künftig mit berücksichtigen, wenn es darum geht, die relevante Aufenthaltszeit für einen Einbürgerungsanspruch zu berechnen. Ein entsprechendes Schreiben hat das Ministerium für Integration an die Einbürgerungsbehörden im Land gesandt.
Überflüssige Knüppel
"Im Hinblick auf eine moderne Integrationspolitik und im Interesse einer bundeseinheitlichen Rechtsauslegung ist die Anrechnung von Studien- und Ausbildungszeiten bei Einbürgerungen folgerichtig. Menschen, die aus dem Ausland zum Studieren oder für eine Ausbildung nach Baden-Württemberg gekommen sind, haben in der Regel beachtliche Integrationsleistungen erbracht", sagte Öney am Montag (19.3.2012) in Stuttgart. Studium und Ausbildung hätten durch den damit verbundenen Sprachgebrauch und die sozialen Kontakte integrative Wirkung. "Diesen Umstand berücksichtigen wir durch die Anrechnung der Studien- und Ausbildungszeiten stärker als bisher."
Auch die Unternehmen in Baden-Württemberg profitieren von einer erleichterten Einbürgerung ehemaliger Studierender und Auszubildender. Öney: "Das Land ist als führender High-Tech-Standort auf die Zuwanderung gut qualifizierter Frauen und Männer angewiesen. Schon heute beklagen viele Unternehmer einen Mangel an Fachkräften." Ein modernes Einbürgerungsrecht sei somit auch ein wichtiger Beitrag für den wirtschaftlichen Erfolg und die Zukunftsfähigkeit des Landes. "Es macht keinen Sinn, Menschen hier auszubilden und ihnen dann bei der Einbürgerung Knüppel zwischen die Füße zu werfen", so Öney.
Schlusslichter Bayern und Sachsen
Ob und wann die nun verbleibenden zwei Bundesländer, Bayern und Sachsen, der Empfehlung des Bundesinnenministeriums folgen, bleibt abzuwarten. Einen sachlichen Grund, allgemeine Aufenthaltszeiten anzurechnen und Studienzeiten außen vor zu lassen, dürfte es kaum geben.