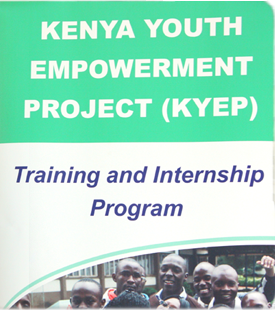 Although this blog focuses on life in Germany, I do post a few things that may be useful to most of you outside Germany. There is a new project being run by KEPSA, Ministry of Youth Affairs and the World Bank in Kenya and I know it would be of interest to most if not all of you. If you have relatives in Kenya who are unemployed and looking for an opportunity to find a job, this is their chance.
Application Deadline: 9th April 2013  7th March 2014
KENYA YOUTH EMPOWERMENT PROJECT
CALL FOR YOUTH TO PARTICIPATE IN CYCLE 4 OF THE PRIVATE SECTOR BASED TRAINING AND INTERNSHIP PROGRAM
(For Placement in Nairobi, Mombasa and Kisumu Only)
The Kenya Youth Empowerment Project (KYEP) is a four year pilot project financed by the Government of Kenya (GoK) with a credit from the World Bank.  KYEP is coordinated by the Ministry of Youth Affairs and Sports (MOYAS), and comprises two components: Capacity building within the MOYAS and providing training and internships in the private sector.
The GoK has appointed the Kenya Private Sector Alliance (KEPSA) to implement the Component of Private Sector Training and Internship (PSIT).
The training and internship program lasts six month. Half of the entire internship period is spent in trainings while the other half is spent at the workplace. The project sites are Nairobi, Mombasa and Kisumu which means that while youth can apply from anywhere in Kenya, successful candidates will only be trained and placed for internship in either Nairobi, Mombasa or Kisumu. The number of youth selected for the program is as follows: 1350 in Nairobi, 600 in Mombasa and 300 in Kisumu.  Youth who meet the eligibility criteria are selected through automated random selection. Applicants not selected randomly to participate in the program may reapply in future cycles.
All selected youth undergo two weeks of Life Skills training at the start of the cycle and thereafter, a competitive selection process for internship opportunities is conducted by employers through interviews for all those who successfully complete Life Skills training. From the interviews, only 900 in Nairobi, 450 in Mombasa and 200 in Kisumu proceed with the rest of the internship program. The successful interns receive a stipend of Kshs 6, 000 per month as a contribution towards their transport costs and meals. However, interns receive this monthly stipend only on the basis of their full attendance of the internship program.
During the internship program, interns are placed in one of the following sectors which are considered to be the growth sectors in Vision 2030: Energy; Finance; Tourism; ICT; Manufacturing and Micro and Small Enterprises (MSEs).  Selection of sectors by the youth will be done by those ones who will be selected to join the project after guidance has been provided.
Cycle 1 was implemented in Nairobi while cycle 2 is ongoing in both Nairobi and Mombasa. 
 KEPSA NOW INVITES APPLICATIONS FROM YOUTH WHO WISH TO PARTICIPATE IN CYCLE 4 OF THE KYEP TRAINING AND INTERNSHIP PROGRAM. 
 This invitation is  for youth who are ready to be PLACED WITHIN NAIROBI, MOMBASA OR KISUMU COUNTIES. Those who will get selected and do not reside in these counties are expected to cater for their accommodation costs.
To be eligible, applicants must:
a)

      
Be between 15 and 29 years of age;
b)

      
Have a minimum of KCPE;
c)

      
Have been out of school for a minimum of one year;
d)

      
Not be currently working;
e)

      
Not be currently in school/college;
f)

       
Be of Kenyan nationality;
g)

      
Not have been selected in cycle 1 or 2;
Youth who meet the above eligibility criteria and are interested are invited to apply. Application forms are available in the following ways:
Downloading from the KEPSA website (

www.kepsa.or.ke

) or the Ministry of Youth Affairs & Sports (MOYAS) website (

www.youthaffairs.go.ke

)

Accessing the online application form which is to be found on the KEPSA (

www.kepsa.or.ke

) and MOYAS (

www.youthaffairs.go.ke

) websites

Collecting a hard copy of the application form available from every District Youth Office in Nairobi, Mombasa and Kisumu counties ONLY
Submission of completed application forms may be done in the following ways:
Online

applications will be electronically submitted at the click of a button

Emailing a soft copy through

kyep-nrbapplications@kepsa.or.ke

for youth who wish to be placed in Nairobi,

kyep-msaapplications@kepsa.or.ke

for youth who wish to be placed in Mombasa and

kyep-ksmapplications@kepsa.or.ke

for youth who wish to be placed in Kisumu

Dropping the hard copy application forms at any District Youth Office in Nairobi, Mombasa or Kisumu counties

Posting the hard copy application form to KEPSA-KYEP P.O. Box 3556 – 00100 Nairobi
NO HAND DELIVERED FORMS WILL BE ACCEPTED AT KEPSA OFFICES OR MOYAS HEAD OFFICE 
Download Application forms and get more info at: http://www.kepsa.or.ke/kyep/